Calendrier d'événements à caractère culturel russe en Belgique
Календарь мероприятий, связанных с русской культурой в Бельгии
Agenda van gebeurtenissen met Russisch cultureel karakter in België

Recueil d'annonces d'événements fournie à titre indicatif!
Nous vous souhaitons d'y trouver les renseignements que vous recherchez et demandons votre indulgence pour toute erreur, inexactitude ou omission au niveau des renseignements publiés.
Pour toute modification/addition contacter par courriel sacha underscore troiepolsky at yahoo dot fr ou téléphone +32 (0)486 04 04 22




Rejoignez-nous
[5.666 contacts]

Éditions [408 livres sortis de presse]
Bibliographie [66 publications Internet ]
Vidéographie [134 vidéos mises en ligne]
Diffusion [108 billets envoyés aux contacts]
| | | |
| --- | --- | --- |
| Enregistrements trouvés => 4 notices à la date 2020-01-13 du calendrier. | Pages : 1 | |
1)
le lundi 13 janvier 2020
from 20:00 till 01:00

Catégorie : Nouvel An
Type : Fête
Koninklijke Industrieele Groote Club, Dam 27, NL-1012 JS Amsterdam
Celebration of the Old New Year.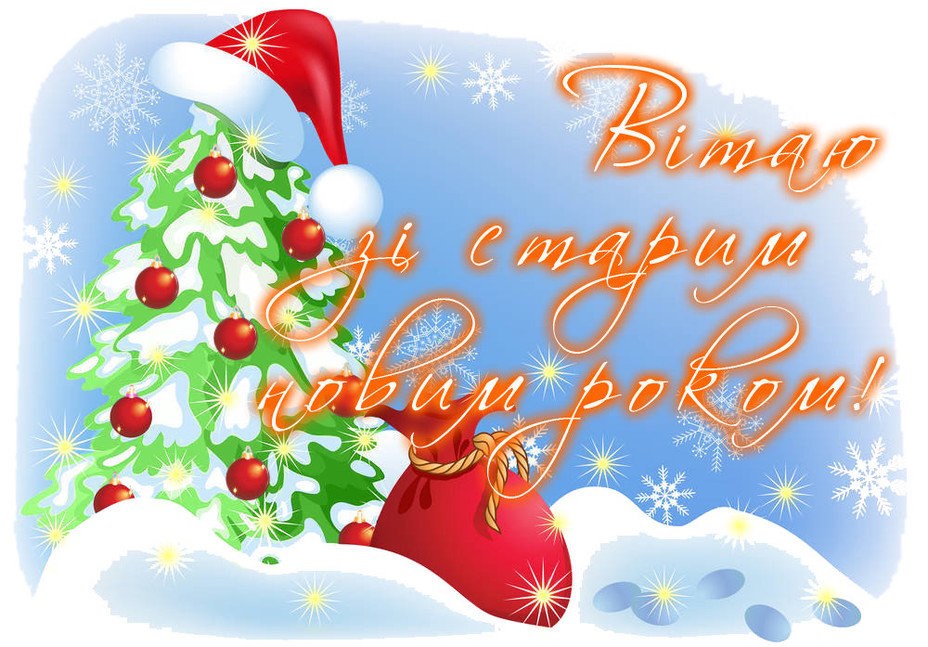 Celebration of the Old New Year.

Organisé par Oosteuropa & Centraalazie tafel
The committees of the Russia Table and the Eastern Europe & Central Asia Table of the Royal Industrieele Groote Club request the honour of Your company at the festive gathering on the occasion of the Old New Year.
A traditional vodka toast will be raised to the Old New Year at 22.00, midnight in Moscow!
Programme highlights :
20.00: Musical intermezzo by Jeroen Dupont (violin) and Tatiana Neufeld (piano) – "Melodies and Dances of the Russian Soul".
21.00: Presentation of the KIGC trip 2020 by Natalia Didier-Konstantinova
22.00: Toast to the Old New Year according to Moscow midnight
23.00 Toast on the Old New Year according to all other midnight time zones in Eastern-Europe & Central-Asia
23.00 - 01.00: Disco show by DJ Goldfinger and DJ Nympho
During the evening :
Club Room : Traditional Eastern-European, Gipsy and Jewish melodies by Rauf Berman (violin) and Arkadi Gankin (accordion)
Ball Room : Anna Matskevich, a singer from St. Petersburg, with her festive nostalgic programme comprised of retro Russian and Western hits.
Library Room : Art exhibition by Belarus artists
Vault Room : Traditional photo-entertainment by Fotoprom.


Dresscode : tenue de ville, à la Russe, uniform or national costume.
Tickets must be purchased in advance. No tickets at the door!
KIGC members can subscribe themselves and their invitees via www.igc.nl , other guests are kindly requested to contact clubinfo at igc.nl for ticket availability and payment instructions.
Entrance fee : KIGC members : € 35,00 per person, all other guests : € 55,00 per person. Price is including 5 drink tokens, two vodka shots, finger food and entertainment.
Free cancellation until Thursday 9 January 2020. As of 10 January 100 % cancellation fee.
During the Seasonal break (21 December- 5 January) your e-mail to clubinfo at igc.nlwill be answered on Monday 23 December, Monday

2)
le lundi 13 janvier 2020
à 21:00

Catégorie : Nouvel An
Type : Fête
Petit Journal St-Michel, boulevard Saint-Michel 71, F-75005 Paris
Nouvel An Russe - Fabrice Eulry & Natacha Fialkovsky.



Nouvel An Russe - Fabrice Eulry & Natacha Fialkovsky.

Fabrice EULRY (pno) Natacha FIALKOVSKY (voc)
Le lundi 13 janvier 2020, à l'occasion du Nouvel An Russe selon le calendrier Julien (dit orthodoxe), pour la première fois, Le Petit Journal va accueillir Fabrice EULRY au piano avec le répertoire russe à sa manière: swing, boogie, stride. La voix magique à la sensualité païenne de Natacha FIALKOVSKY et son groupe "Nuits de Princes" (guitare, balalaïka et domra) nous transmettra ses propres accents incomparables, entre une romance de Pouchkine et un air de Fet. Les arrangements enchanteurs et étonnants des airs slaves et des romances russes à 4 saxophones (alto, ténor, baryton) habilement guidés par le saxo soprano de Timour ABITOV feront de cette soirée un moment unique.




Dîner-concert | Tarif plein : 20 € | Tarif réduit : 11 €
Tarif minimum pour 1 consommation servant de droit d'entrée. Réduit = étudiants.

Сайт/Site : https://www.parisjazzclub.net/fr/67204/concert/2020/01/13/nouvel-an-russe-fabrice-eulry

3)
le lundi 13 janvier 2020

Catégorie : Nouvel An
Type : Fête
Hôtel Alfred Sommier, rue de l'Arcade 20, F-75008 Paris
Nouvel An Russe. Russian Old New Year.



GoEast => Nouvel An Russe. Russian Old New Year.

Jour du Nouvel An Orthodoxe avec le Comte Richard de Warren, Michel Soyer et Elisabeth Visoanska
Go East business Club
Soirée de Fête et tradition de la Tournée des Grands Ducs, dans les salons dorés du somptueux Hôtel Alfred Sommier 1860, où l'Aristocratie Russe avait ses habitudes.
Accueil piano cheminée et champagne, musiciens Tziganes, testing de Vodka, dîner assis-placé, conclusion musicale lyrique.
Menu : Goulach, Bœuf Stroganoff, glace Colonel à la Vodka, vins 2 couleurs, eaux et café.
Party-evening and traditional Grand-Dukes Tour, in the golden lounges of the sumptuous Hotel Alfred Sommer 1860, where the Russian Aristocracy had its habits.
Piano fireplace and champagne welcome, gipsy live-music, vodka testing, formal dinner, lyric musical happy-end.
Menu : Goulach, Stroganoff beaf, Colonel vodka icecream, 2 colors wines, waters & coffee



Participation : 150 € / pers boissons comprises. Réservation indispensable, pas d'inscription sur place
Participation : 150 € /pers. Drinks included, mandatory booking, no registration on site.
Répondre : + 33 6 27 13 76 88
Сайт/Site : http://www.marquiseinvest.com

4)
du lundi 13 janvier 2020 au jeudi 16 janvier 2020

Catégorie : Classes
Type : Enseignement
Atelier Marcel Hastir, rue du Commerce 51, 1000 Bruxelles
Triomphe de l'Art masterclass.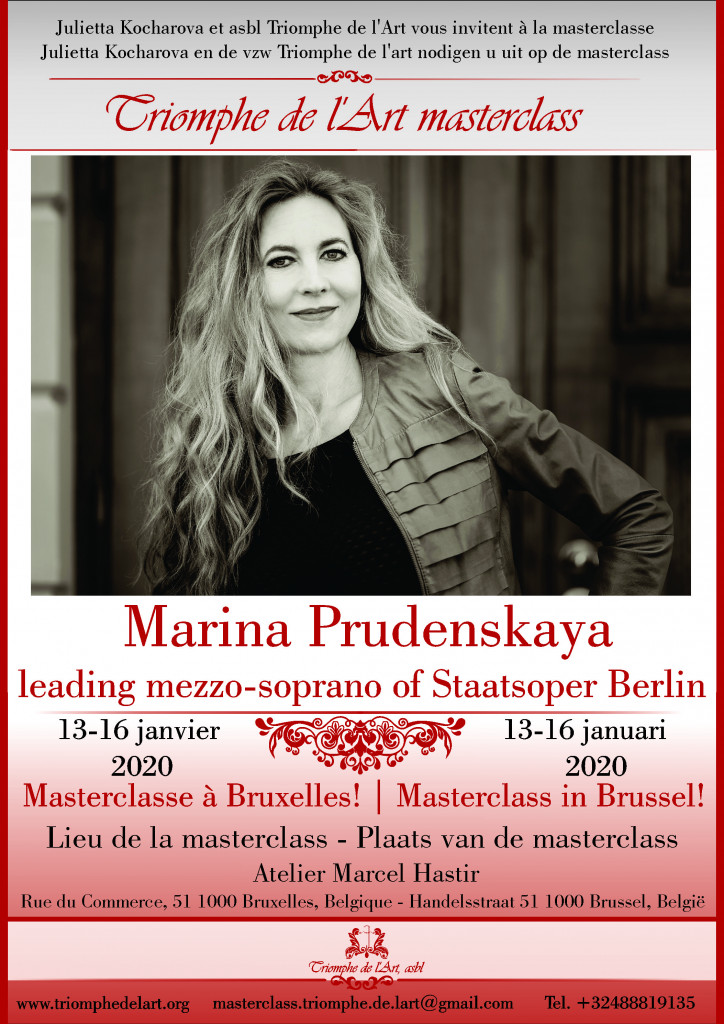 Triomphe de L'Art masterclass.

par Marina Prudenskaya, leading mezzo-soprano of Staatsoper Berlin
I'm very happy to invite you to my vocal masterclass Triomphe de l'Art in Brussels, Belgium between 13 and 16 January 2020.
Having a busy schedule of performances, I never not forget about my pedagogical work that is focused on the interpretation of opera, operetta, song and oratorio.
The singing and breathing technique, that I use for myself and that I teach, helps to improve roles with the necessary lightness based on this technique I use and that I want to teach all my students.
Also the range of my repertoire is of crucial importance for the pedagogical work, because the real experience conveys in much more authentic way than the pure theory.
For early birds who apply till 1 October, there's a reduced application fee. So, hurry up to apply!


Contact : masterclass.triomphe.del.art at gmail.com / tél.: 0488 81 91 35
Сайт/Site : http://www.triomphedelart.org/language/fr/opera-et-lied-masterclasse-de-marina-prudenskaya-en-janvier-2019/

---
Pages : 1
---
Interactivité : Commentaires → consultation / signature  | Enquête → besoins des contacts | Bordereau → notice (réservé) | inscription | Liens → agendas similaires