Hermitage Fine Art Monaco, avenue de la Madone 4, MC-98000 Monaco
Fine Art, Russian Art, Manuscripts and Rare Books.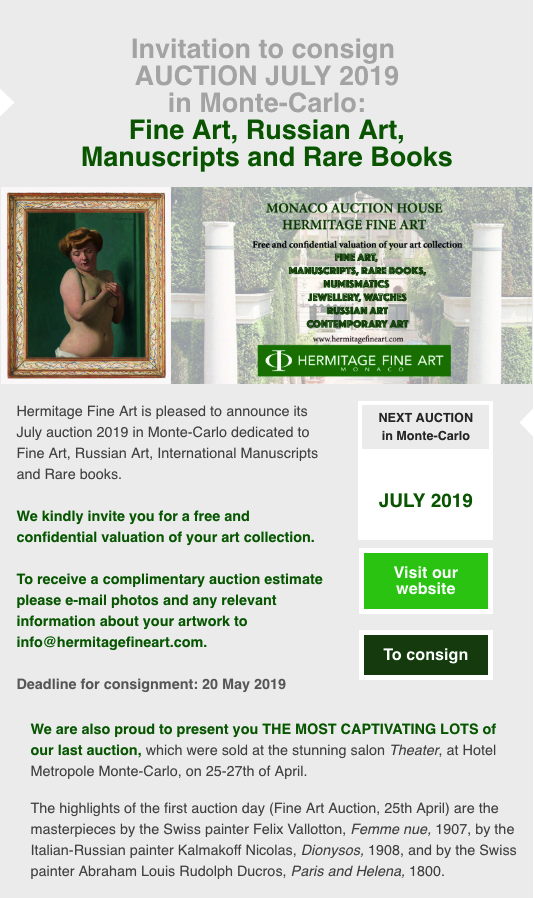 Monaco. Hermitage Fine Art July auction 2019.
Ф Hermitage Fine Arts
Hermitage Fine Art is pleased to announce its July auction 2019 in Monte-Carlo dedicated to Fine Art, Russian Art, International Manuscripts and Rare books.
We kindly invite you for a free and confidential valuation of your art collection.
To receive a complimentary auction estimate please e-mail photos and any relevant information about your artwork to info@hermitagefineart.com.

Deadline for consignment : 20 May 2019 NEXT AUCTION in Monte-Carlo JULY 2019

We are also proud to present you THE MOST CAPTIVATING LOTS of our last auction, which were sold at the stunning salon Theater, at Hotel Metropole Monte-Carlo, on 25-27th of April.
The highlights of the first auction day (Fine Art Auction, 25th April) are the masterpieces by the Swiss painter Felix Vallotton, Femme nue, 1907, by the Italian-Russian painter Kalmakoff Nicolas, Dionysos, 1908, and by the Swiss painter Abraham Louis Rudolph Ducros, Paris and Helena, 1800.
This rare painting has an excellent provenance - it was exhibited at the Tretyakov Gallery in Moscow in 1908 for the first show of the famous series «Golden Fleece Salon».
The lot is in TOP 10 Worldwide best sales in the last 3 years in its category.
Highlights of the Russian art auction (26th April) are the rarest Russian Imperial Kovsh, a present from Peter I the Great and Ivan V to customs officer in 1693, manuscript collection of poems by Konstantin Balmont with the personal bookplate of Sergei Lifar, significant paintings by Yuliy Klever and Karl Geftler.
On 26thApril, Hermitage Fine Art also sold :
The first edition "The Tale of Igor's Campaign", released in 1800 by A.I. Musin-Pushkin, N.N. Bantysh Kamensky and A.F. Malinowski, for for 36,830 €. Iroic song about the march to the Polovtsy of the Prince of Novagorod-Seversk, Igor Svyatoslavich, written in ancient Russian at the end of the 12th Century.
Description of the celebration that took place in February 1626, by Beketov Platon for 34,290 €.
Detailed description of the solemn order of the successful entry into the ruling city of Moscow and the most sacred coronation of the Her Majesty Elizabeth Petrofina for 29,210 €.
Autographs of mystic and contradictory advisor and family doctor of Russian tsar Nicholas II, Grigory Rasputin for 21,590 €.
A unique collection of fine jewellery, clocks and accessories from the Art Deco period of one of the most Luxurious Jewellery Brands – Cartier, auctioned on April 27th.
Among the top lots are the Art Deco silver and gold Cartier clock, 1927, and Cartier clutch bag, 1930, sold for 12 065 € and 2 794 € accordingly.